My Story
Glad you could join me FLOOFERS, now you must promise that this is going to stay between you and me – no telling! PROMISE?
Right, I'm going to start at the beginning and my story is no different to all the doggos that have been helped through the beautiful FLOOF family.
My old owners didn't want me anymore so they put me up for sale on Gumtree - I don't know why really, but it's a time in my life I want to forget, mainly due to the really lovely families that have taken care of me since FLOOF bought me from them. When I arrived my ears hurt all the time, I had trouble breathing, my nose was really sore and I was not being fed properly so I was a bit skinny. But the family who were looking after me took me to the vets and got me some gooey stuff and some tablets – which they wrapped in a bit of ham so they were very tasty and they fed me lots of nice food.
I have had a few FLOOF families that I have visited and stayed with for a little while as I do have a few funny ways, but I am an old boy, I don't want to rush around, but I cant anyway as my breathing is not too good - I just want my family around me, oh and a comfy sofa. So, I'm now living with someone who lets me do just that. But that was the good bit – now for the nitty gritty.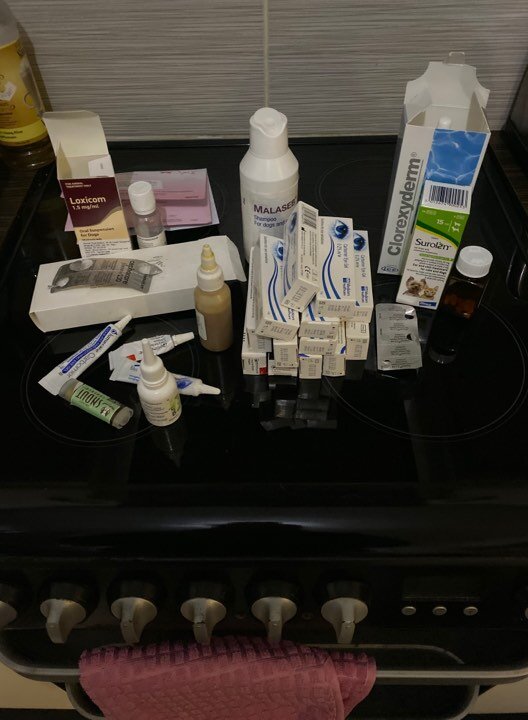 Loxicom, Snout Soother, Carbomer (for my eyes), Surolan, Clorexyderm, Malseb shampoo
After all my visits to the vet man, he has said it will cost FLOOF thousands (not sure what that means) but when he said that I overheard a few of the team whispering to mummy and I felt a bit worried. So, I have sneaked a look at all the info about me and I need TECA in both ears which would leave me deaf (might be a bonus – can ignore mum with no blame) and I already have loads of pills and potions to take every day and mummy sends the bill to FLOOF. But then, I read on mum's phone a message from a lady called Kellie who had said 'whatever Herbie needs - he can have' and to be honest I was a bit relieved as my ears hurt such a lot now and I keep scratching at them and I can't play like other doggos or even go on a long walk, which I would love to do. If, I could have the operation, the first thing I want to do is have a 'zoomie' they look such fun
Now, I feel a guilty, I'm old and I have never been some peoples first choice as I heard some people say they would prefer a puppy or a younger dog and FLOOF have Rudy and all the other younger dogs to care for and then there's Lady M – think she needs the same as me too and I don't know if I am worth the trouble to FLOOF. And, to top all of that they have even said I might need BOAS surgery as my breathing is so bad and one of the young un's had that recently, think it was Norman and I know it cost his mummy and daddy loads and I suppose he deserves it being only young, but I love my mums lap and I would love to make her happy being able to take me out on walks.
So, can you help me?
I'd love to be able to give back all the money that FLOOF are willing to spend on me, but, unless you've been living on Mars, I'm a dog and I don't have any money. But the link below will let you give money to them and can you mark it 'from Herbie' they won't know I told you.
And, I promise to give you all the updates especially a video of my first zoomie, so from this old boy from his comfy sofa, thank you.
I have put below my bucket list so I wonder how many of these I will get to do
· Do a zoomie
· Go on a FLOOF walk
· Be able to eat my dinner in one go (I can't at the moment because I can't breathe)
· Not scratch at my ears all the time
· Not cry in pain with my ears